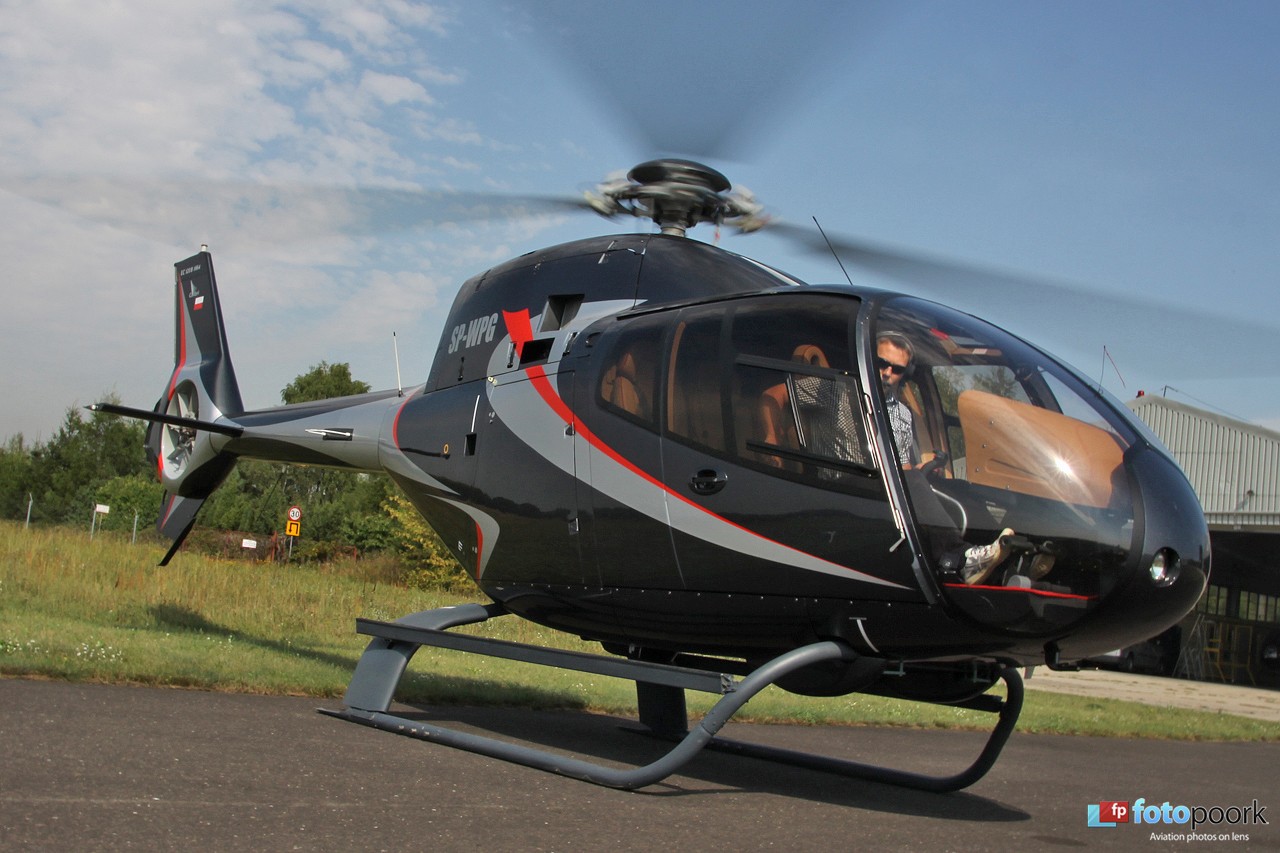 Details
Photo equipment
Canon EOS 50D, Canon EF 70-300mm f/4-5.6 IS USM, Sigma 18-250mm f/3.5-6.3 DC OS HSM
We invite you to watch the photoreport dedicated helicopter Eurocopter EC – 120B .
Helicopter EC- 120 B Colibri opens up a wide range of Eurocopter helicopters , being a leader in the fleet of air services in Poland , the company Helicopter.pl .
EC- 120 complies with the European regulations JAR27 for performing VFR operations by day and night. Helicopter EC- 120 combines the latest technology in order to increase safety and reduce operating costs. Modern instrument panel, VEMD system (the display showing key information about the parameters of the engine and flight parameters ) – increase safety during the execution of the mission.
The rear rotor Fenestrom reduces the noise level by 6.6 dB below the ICAO flight providing exceptionally quiet and high performance.
The EC- 120 is powered by Turbomeca Arrius latest 2F engine with a capacity of 504 hp , making the average cruising speed is about 200 km / h and endurance is about 3 hours .
With extensive cabin , helicopter EC- 120 provides a high level of comfort for four passengers and the pilot. Can be equipped with a wide range of additional equipment thus increasing its versatility.
EC- 120B in VIP configuration with a higher standard , as mentioned above, can carry 4 passengers in spatial , comfortable and very well glazed cabin , unprecedented in light helicopters .
In addition to extremely low vibration , passengers will appreciate enough legroom and an air-conditioned cabin .
A unique panoramic view through the glass leaves an unforgettable impression .
During the tourist destination there will also be space for luggage for passengers.
Rack can accommodate 4 large suitcases , which provided easy access from the rear of the helicopter and the left side of the cab.
With the simple design of the helicopter , helicopter maintenance is easy and makes the EC120B is a powerful single-engine light helicopter with one of the lowest cost of ownership.
EC- 120B offers the most technologically advanced solutions that enable the pilot flying safer and easier . This new generation helicopter is the only single-engine helicopter , which includes many advanced technologies in one design .
Despite the fact that use advanced technologies EC- 120B are designed with simplicity in design and uncomplicated maintenance , bearing in mind the requirements of customers and users.
The pictures presented on the pages of our website are owned equipment fleet Helicopter.pl , which provides services to :
– Air Taxi flights
– Hire helicopters
– Business flights
– Scenic flights
– Special offer: flights to beach resorts, engagement in the air , participation in events or corporate events
– Patrolling / filming from the air
Helicopter.pl is a member of Heli Invest, which is also the sole distributor in Poland and Authorized Service Center Eurocopter helicopters .
We invite you to look at photographs Eurocopter EC- 120B made ​​in the Warsaw Babice , both when stationary and flight.