Duxford is a homecoming for me, I could have copied the title from a song by U2, but I have bothered the stones to whom I am closer by age: a dive into the past of aviation and my personal. Much time passed since my first time in Duxford. Today I'm here to take part in the 2018 edition of the show "Flying Legends". I always find something new to see and something old to see again, because from this old RAF airport I always bring home a lo,t but not everything; that's why I am here, returning from the Tiger Meet at Poznan in Poland, after a week of jet sarabande and noise, to the old Duxford with its clear air, fresh, green grass, its clouds in ambush and sounds of engines now unusual. I discovered Duxford in 1980 or so, during one of my first trips to London, here in the land of freedom where I learned that taking pictures of airplanes is no crime: a poster on a wall, in a subway corridor of the underground to Liverpool Street, this train to a quiet little station a la mode de Harry Potter, a two-hour walk in the countryside, watching the silent movie of gentlemen dressed in white playing cricket on a green pool table of an ancient estate, close to the vilage church…
then this wonderful dream in the green of the english plain: an old airport with old airplanes, but with a 'singularity' that makes it really special: it's "alive" !. You see it even from little things, like a sign near the entrance to the museum that reads: " electrician needed", "looking for a mechanic, urgent".
Takin a look in the maintenance hangar, work is interrupted for the imminent airshow, here passion puts old glories back in the air and sends you the desire to renew yourself. The show of this year, in addition to the usual old glories, reserves us a big "peculiaritiy": 4  Messerschmitt 13F109 altogether! I have never seen four in one fell swoop! So… take your seats, sit back and prepare to be enthrolled by the Flying Legends Airshow, the most famous aerial show. Flying Legends celebrates the classic age of piston powered aviation, when brilliant engineers and pilots opened a new era of travel, globalisation and exceptional progress, proud to participate in keeping some of these aeronautical masterpieces flying and so too the memories of those who built, maintained, flew and fought in them.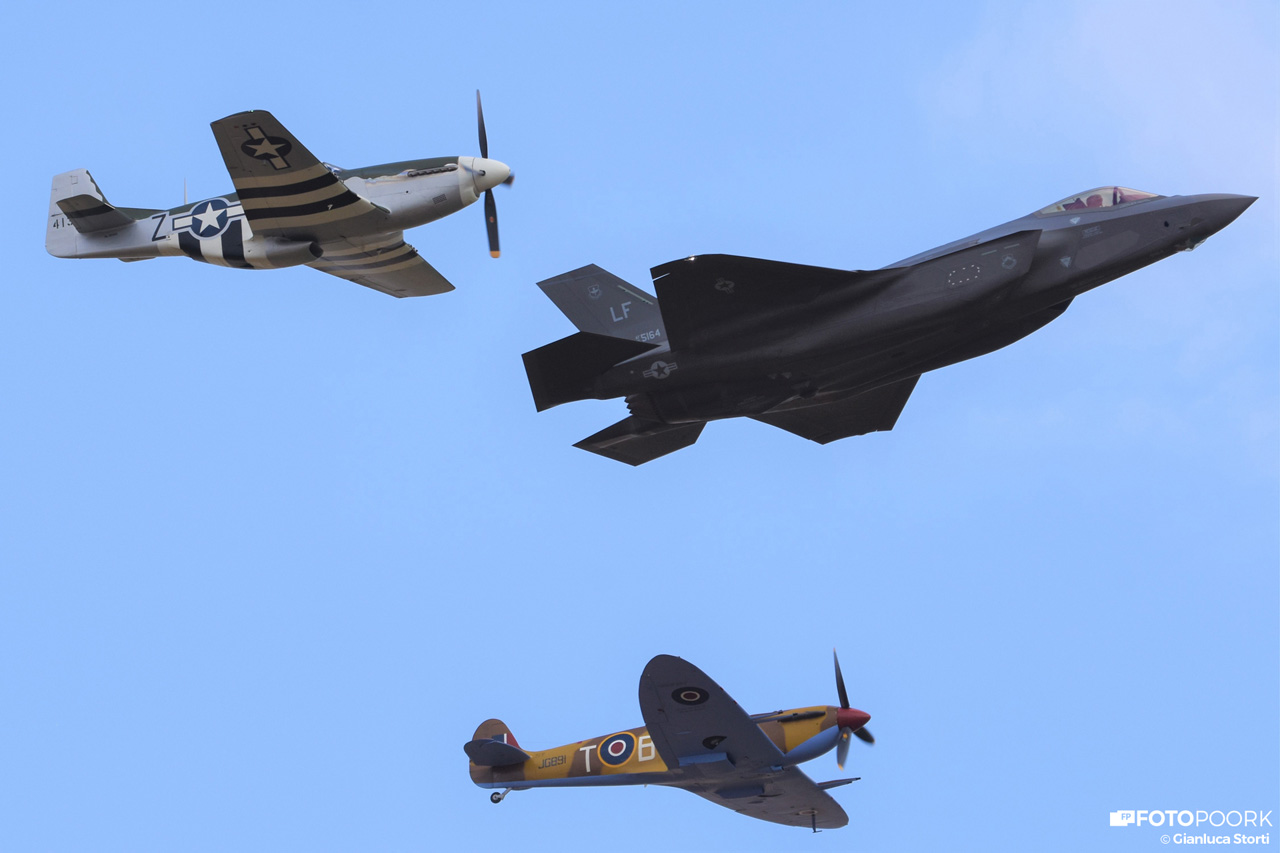 In fact Duxford is also home to an extensive museum which is open to the public and free on air show days. As well as the museum there is plenty of entertainment on the ground including two Vintage Villages with a range of nostalgic entertainment. This included the Umbrella Big Band performing big band classics and the Hotsie Totsies singing songs from the 1920s to the 1940s.
More than 40 aircraft participate in this edition: I find here, to name a few, two Hispano Buchon, 15 Spitfires, including two Mark i, three Hawker Sea Furiy, three versions of the famous Hawk, a Hawk 75, a P-40B and a P-40F, 4 Hurricanes, the Curtiss-Wright P-36C, Curtiss-Wright Hawk 75, Curtiss-Wright P.40C, Curtiss-Wright Warhawk P40F, Grumman Wildcat FM-2, Grumman Bearcat F8F, Goodyear Corsair FG-1D.
Up next was the 'Luftwaffe & Battle of Britain Movie Tribute' theme which included four Buchons and three Spitfires (Mk.I, Mk.V and Mk.IX). The Buchon was a license-built version of the Messerschmitt BF 109G-2 which was developed in Spain during and after World War II. The four Buchons BF109include the Hispano HA-1112-M4L Buchon 'Yellow 7', Hispano HA-1112-M4LBuchon 'White 9', and Hispano HA-1112-M4L Buchon 'Red 11'.
The 'United States Air Force Heritage Flight' was next with the USAF F-35A Lightning II , P-51D Mustang 'Hun Hunter/Texas' and a Spitfire Mk.V . The F-35A Lightning II is the conventional take-off and landing variant of this new fifth generation stealth jet. The P-51D Mustang 'Hun Hunter/Texas', N351MX and the Spitfire, a Mk.Vc (JG891), are both owned and operated by Comanche Fighters LLC in Houston, Texas.
I will avoid the list of old glories to bring attention to the final performance, the moment of mass take-off of all the fighters present for the final parade. Too bad that the sun often hide behind the clouds. Although I am no longer a "survival english", I never understood how this overflight of so many airplanes is defined. The British honor us, Italians, by calling it "The Balbo", but I have always pretended nothing when it was announced to avoid to make a bad impression. Instead, it is just like that: this passage wants to remember the epic transports of our Italo Balbo, politician, general and aviator. However, the British, who I do not think are ever "tender" towards the Italians have thus defined the grand finale on Duxford. I leave the floor to the photos, after thanking Esther Blaine, who has done somersaults to find out our passes and Wikipedia for additional informations.